BAPTISMS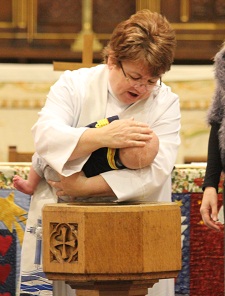 We are delighted when couples come to us wanting their child to be baptised at All Saints'. We conduct baptisms for all those who live in the parish or who have a strong connection with the church.
Baptisms can be held during our main Sunday morning service when the church will be able to welcome your child into the church family or, if this is not possible we also hold baptisms at 12 noon on Sundays.
We suggest that you make enquiries at an early stage so we can give you advice about godparents etc and get your preferred date booked in.
Our vicar will visit you to discuss the service so you will feel comfortable on the day. We hope that this will be the start of a continuing connection with our church.
There is no charge for the baptism service except for a small charge in providing a certificate and a charge for providing an organist if you want a 12 noon service with hymns.
For all enquiries please contact the vicar on 0161 485 3455.
For more information about baptisms please click here